A new course to challenge the model.
May 13, 2021 by
Sam Tauke

and

Ryan Burns

in Analysis with comments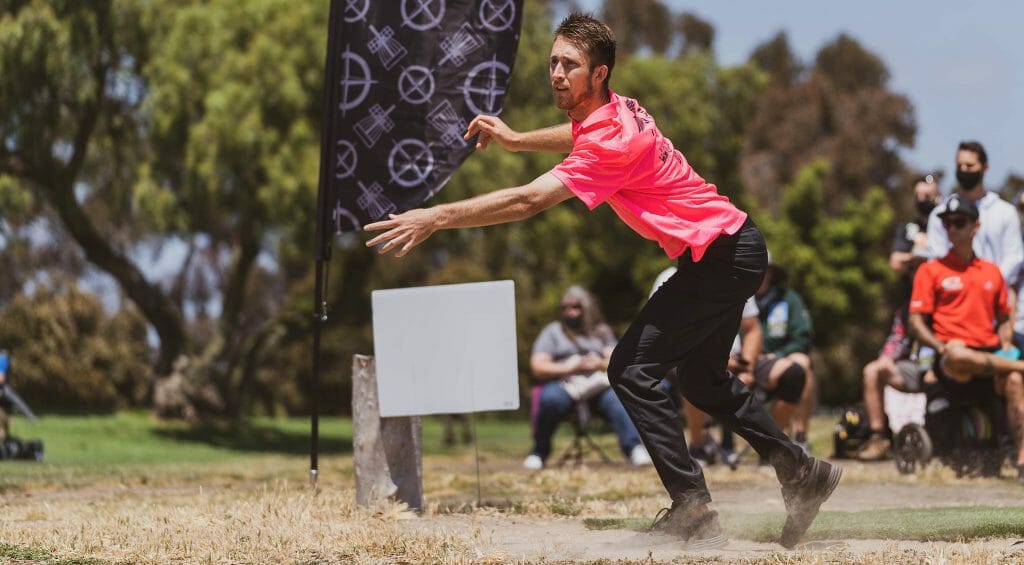 Another new stop for the Elite Series, kind of.
What was the San Francisco Open has moved to Stockton and rebranded as the OTB Open. The tournament will be played at the Swenson Park disc golf course, which is built on a regular golf course. Since this is the first pro-level event hosted at the course, this is a brand new course for nearly all of the players. But the defining characteristic of this course seems to be something the pros are very familiar with: distance. The Gold course played by the MPO field is a par 66 and an astonishing 11,516 feet. The front nine boasts a 1,033 foot hole and another at a towering 1,201 feet. On the back nine, the distances on the final three holes are 863, 709, and 801 feet. The FPO layout is also very long: a par 70 at 10,022 feet.
Without prior playings of this tournament, we are a little limited in what we can say, but this is certainly a course where a big arm is an absolute advantage. Even if the other aspects of their game is off, the players with the ability to consistently bite off big distance from the pad — a strong roller will be a big plus — are going to have an edge.
The big news this weekend is the return of Simon Lizotte. After delaying his return due to extended rehabilitation needs, this will be his first tournament of the season. Is he in a position to compete on a big distance course? He is known for his world class power, but even he has admitted he won't be throwing at 100%. It will certainly be fun to see him back on the circuit but neither we as analysts nor our model predict that this tournament will feature his return to the podium.
Now for predictions. For the FPO, we have a top five of:
Paige Pierce
Catrina Allen
Hailey King
Sarah Hokom
Madison Walker
Pierce clearly has the power to succeed on this course and, after skipping the Dynamic Discs Open, she should be well rested and ready to shoot some low rounds. King also has plus power and took home a commanding six stroke win at the DDO, so she will look to continue that momentum into a top finish at OTB. On our honorable mention list are: Lisa Fajkus, Ellen Widboom, Missy Gannon, Kona Star Panis, and Ohn Scoggins.
In MPO, we predict the rich will get richer. Big bombers, especially those with top finishes this year, are predicted to carry the weekend. Our top five are:
Ricky Wysocki
Eagle McMahon
Paul McBeth
Drew Gibson
Calvin Heimburg
In the honorable mentions, we predict: Garrett Gurthie, Austin Hannum, Kevin Jones, Adam Hammes, and Cameron Messerschmidt.
To toot our own horn a bit, at the DDO, 8 of our 10 combined top five and honorable mention picks finished in the top ten in MPO (including three correct picks inside the top 5). It was a very successful weekend for the model and we expect to continue the success at the OTB Open!
Sam Tauke


Ryan Burns

TAGGED: DGPT Elite Series, Disc Golf Pro Tour (DGPT), 2021 Disc Golf Pro Tour, 2021 OTB Open, Adam Hammes, Austin Hannum, Calvin Heimburg, Cameron Messerschmidt, Catrina Allen, Drew Gibson, Eagle McMahon, Ellen Widboom, Garrett Gurthie, Hailey King, Kevin Jones, Kona Star Panis, Lisa Fajkus, Madison Walker, Missy Gannon, Ohn Scoggins, Paige Pierce, Paul McBeth, Predictive Model, Ricky Wysocki, Sarah Hokom