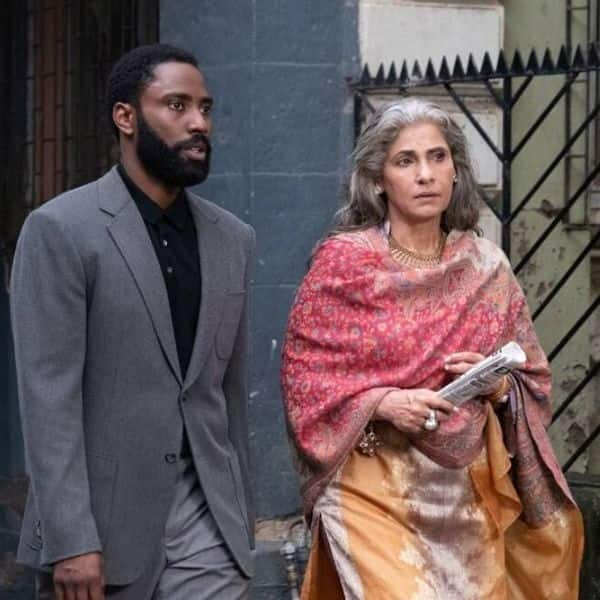 Christopher Nolan is one helluva investive director. He has a certain vision, a splendid one at that and he would leave nothing to make his vision turn into reality on the screens. He is the master of his craft and yet he strives to better it and hone it with each of his next ventures. Nolan's Tenet, one of the most anticipated films in India as well as oversees is finally going to see the light of the day. For those who don't know, Tenet has already released in the US, China. It is releasing in India on December 4. The film stars Indian actress Dimple Kapadia in it alongside a fantastic star cast including John David Washington, Robert Pattinson, Elizabeth Debicki, Michael Caine, Kenneth Branagh, Aaron Taylor Johnson and Clemence Poesy. Also Read – Sushant Singh Rajput's last film Dil Bechara to release in theatres along with Indoo Ki Jawani, Tenet, Suraj Pe Mangal Bhari?
The Bobby actress opened up on filming an international film that too a Nolan one. She revealed she had been nervous and was under a lot of 'pressure' before the shoot commenced. "Honestly, I was under so much pressure of my own while doing it. I was so tense that I couldn't really appreciate or enjoy what was going on. If I think about it now, it was a beautiful dream for me," the actress told PTI in a telephonic conversation. Also Read – Trending Entertainment News Today: Rhea Chakraborty arrested, Kangana Ranaut's legal notice, Tenet soars at the box office
Adding how Tenet, as a film and an experience, changed her life, Dimple stressed that she now wants to do a lot of meaningful work. "I think doing Tenet has really changed my life. I was always a reluctant actor, I kept putting things off and not doing them. But Tenet has really changed that for me. I'm raring to go now. I want to do a lot of work now, good work," the Saagar actress added. Kapadia plays a dealer who has an aura of that of an oracle. She gushed as to how the ace director made everyone comfortable and easy on the sets. "It was so fantastic and unbelievably easy to slip into (the role). He (Nolan) made it so easy for me to get into it. It was a dream world and I wish I could get that better." Also Read – Hollywood Box Office Report: Tenet reaffirms decision to open theatres with $20M US weekend debut and $150M globally
During the initial days of filming, the actress revealed that she couldn't catch the nerve of the film and what the director wants to tell the audience. However, she trusted his vision and went with the flow. "I was locked up in my vanity van for four hours, it took me that much time to read. When I read the first 20-30 pages, I didn't know what I was reading. I'm an avid reader but I just couldn't fathom where I was. Even after finishing it, I got the gist of it but still couldn't fathom what he was trying to exactly say. So I was really looking forward to seeing how he's going to translate it all into cinema as that would be the exciting part of it," the actress told the portal.
"Once I finished a very long scene and at the end of it, there was just a voiceover for two lines. So, I didn't really pay much attention to it as it was a voiceover. I got back to my work and finished the day but later realised what those two lines actually meant," she recalled while adding, "No. I was convinced'. So that's his process. He's got it all in his head and what you need to do is to just appear and do your best because it is already all there in his mind, how he sees it all and he wants it to be done."
Upon the release of the film, Dimple said, "My only desire for the film is that people should actually enjoy it in theatres. I know these are trying times but this film is made for the big screen. It is absolutely fantastic and unbelievable. You have to see it to believe it. At the same time, people should take complete care." However, she did reveal that she couldn't understand the movie in the first go and hence she said, "I have to see it three times more to completely understand. I have seen it once, I have read the script and has worked in it, but I still need to see it three more times or maybe four times to finally understand what it was."
So, are you planning to watch Tenet in theatres this coming weekend? Let us know by tweeting @bollywood_life.
Stay tuned to BollywoodLife for the latest scoops and updates from Bollywood, Hollywood, South, TV and Web-Series.
Click to join us on Facebook, Twitter, Youtube and Instagram.